Import a ServiceNav Box into Microsoft Azure
Context: Use this procedure to deploy a supervision box for Microsoft Azure, and integrate it into an Azure subnet.
Obtain  the VM image from our site ftp://software.servicenav.io  (contact support for the credentials)
In the VSM-VSB folder take the picture: SNM_MASTER_AZURE_2018_03_16_V3.13.1.vhd.zip
Deploy the image in Azure
Connect to the AZURE portal
Navigate to Container, which will be the VHD storage location.
Download the file to the Container (click on Upload and select the VHD file).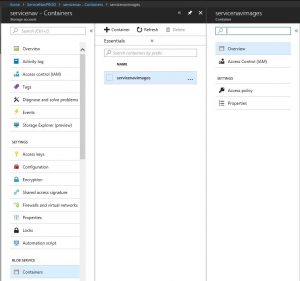 Create a disk using the storage account
Highlight the disk and click create a VM
In the resources

Open the 222 port inbound
Open the ports 9465, 80, 443 outbound

On the monitoring box launch the installation script without changing the address IP. Start at the token step.
Once a VM is imported, if if it cannot be pinged  or SNMP times out , check that the Box and the VM are on the same resource group / network addressing, in the global view.
Change the virtual network settings if the VNs are different.
Commissioning a ServiceNav Box
Follow the following procedure from Section 2:
License Mode: https://coservit.com/servicenav/fr/documentation/service-service-of-service-box/
SaaS mode: https://coservit.com/servicenav/fr/documentation/mise-en-service-dune-box-saas-servicenav/