Dataviz – Sharing a Dashboard via a URL (Dashlink)
IMPORTANT :
The Dataviz feature requires the operation of ServiceNav in a "Big Data" architecture.
This stream is currently only functional on the SaaS platform, and will be progressively made available for dedicated platforms from June 2019.
The Dataviz feature replaced the dashboard carousel from version 4.1. The Dashboard menu item now contains two entries: "Classic" and "Dataviz"
Would you like to share a management console with clients, internal or external, without giving them rights in ServiceNav?
With the Dashlink feature, share your Dataviz dashboards via a simple link!
Creating a Dashlink
In EDIT mode of a Dataviz dashboard, click on

A window opens, offering to activate the sharing.
Once sharing is enabled, a link is generated, and can be copied to the clipboard or opened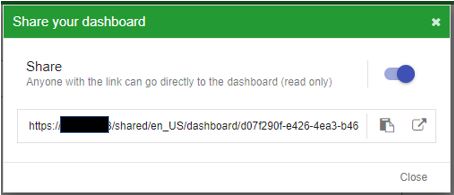 The shared dashboard is displayed (read-only), by a simple call to the URL:

In shared mode, no authentication is required, and so no editing or access to drill-down details is possible.